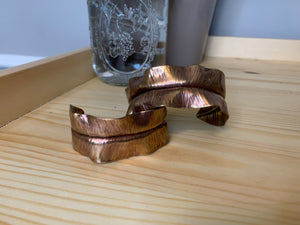 Bronze Leaf Cuff
These bronze leaf cuffs were hand forged and formed in 2016. While this design may make a comeback the workspace we are in right now does not have the right equipment to execute the fabrication process required to produce these cuffs.
Currently there are two available cuffs; one standard size 7" and a smaller size of ~5" perfect for the smaller than average wrist.
Please note that metal has been sealed to prevent oxidation when in contact with the skin, but may still cause mild skin greening over time as the coating wears off.